Georgia is an excellent place to live. The weather is not too extreme, and the winters are relatively short. Plus, if you prefer the great outdoors, there are plenty of attractions and recreation spots to keep you entertained. The job market in Georgia is exploding, with well over 450 Fortune 500 companies operating within the state's border, and the economy continues to grow via tourism, entertainment, and agriculture.
Property taxes in Georgia are lower than the national average, making this state a great candidate for singles looking for outstanding career opportunities, affordable luxury homes, and abundant places to meet new people. Here are a few of our favorite cities that should be candidates when searching for your home.
Atlanta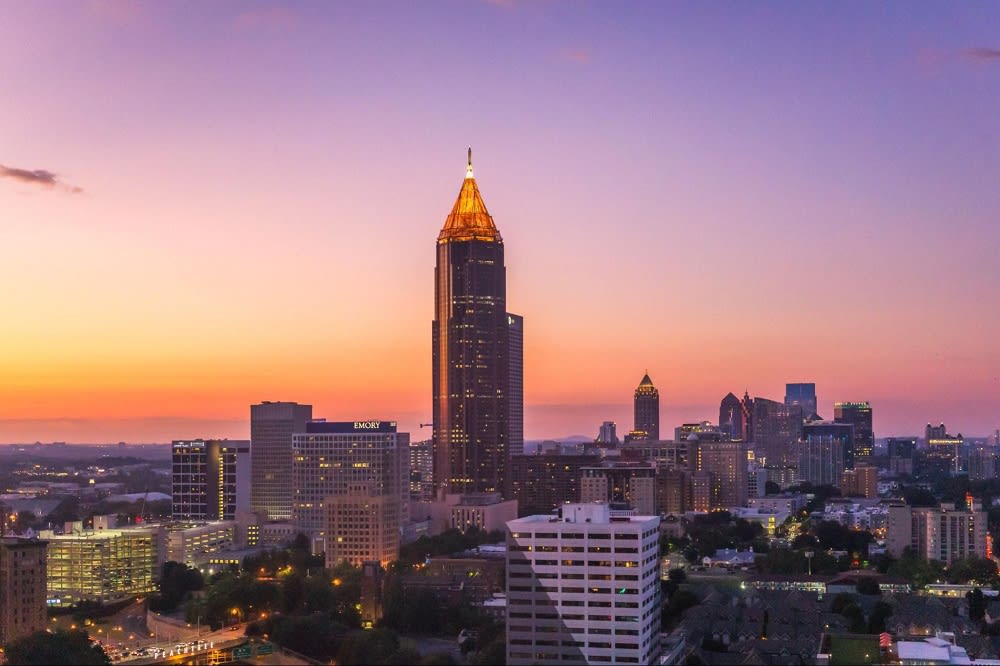 Photo courtesy of Unsplash
Atlanta is a top technological hub, not only in the south but in the United States. It is balanced by a vivid arts and entertainment scene, exciting sports culture, and a hopping nightlife. The residents of Atlanta are extremely friendly and welcoming. Even though Atlanta boasts 15
Fortune 500 companies
within the city limits, ranking it third highest in the country, the residents of this city still have a way of making you feel like you are somewhere much smaller. When it comes to meeting new people, there is no shortage of opportunities. The food and drink choices offered in Atlanta span the entire globe, and there are enough bars to pick a new spot every week. If you would rather catch some fresh air and exercise, check out the Atlanta Beltline. Atlanta is, by far, one of the best places to live in Georgia for singles.
Marietta
Marietta is another fantastic historic town close to downtown Atlanta while offering a small-town atmosphere. Marietta real estate features a beautifully elegant wooded community full of antebellum houses and southern charm. The homes here are luxurious and close to a multitude of shopping centers and exciting entertainment opportunities. The restaurants in Marietta are unique and interesting, making great selections for nights out. Marietta also features a network of walking trails and art exhibits, perfect for getting outside and meeting new people. The city is constantly making advancements, and there is no shortage of jobs, whether you would like to work within Marietta itself or drive to Atlanta.
Doraville
Doraville is a quaint town just 10 miles northeast of downtown Atlanta. Located on the southern tip of the Appalachian Mountains, the small town has a lower cost of living than the general average in the United States, even though the post-war era homes are luxurious and spacious. These mid-century houses are close to several beautiful central parks, as well as baseball fields, football fields, walking trails, and an arena. If you're looking for date ideas, there are numerous delicious restaurants and a karaoke bar, and downtown Atlanta is only minutes away.
Brookhaven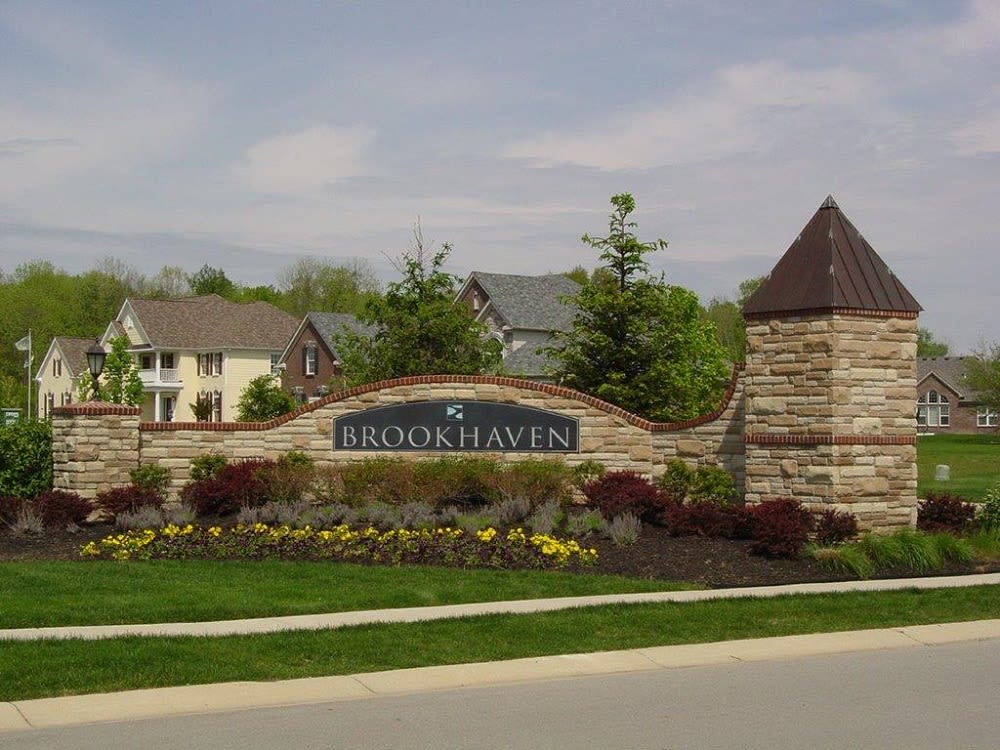 Photo courtesy of Shutterstock
The city of Brookhaven was only officially incorporated as such in 2012, but its roots go back to 1810. Today, it is known as a luxurious, affluent, and family-friendly city. Household incomes in Brookhaven are increasing every year, which is reflected in the community atmosphere. There are many amazing social opportunities in Brookhaven, such as high-end international eateries and bars, expansive parks, and the Oglethorpe University's Museum of Art. This 7000-square-foot museum rotates three major exhibitions a year alongside its regular art showings.
Sandy Springs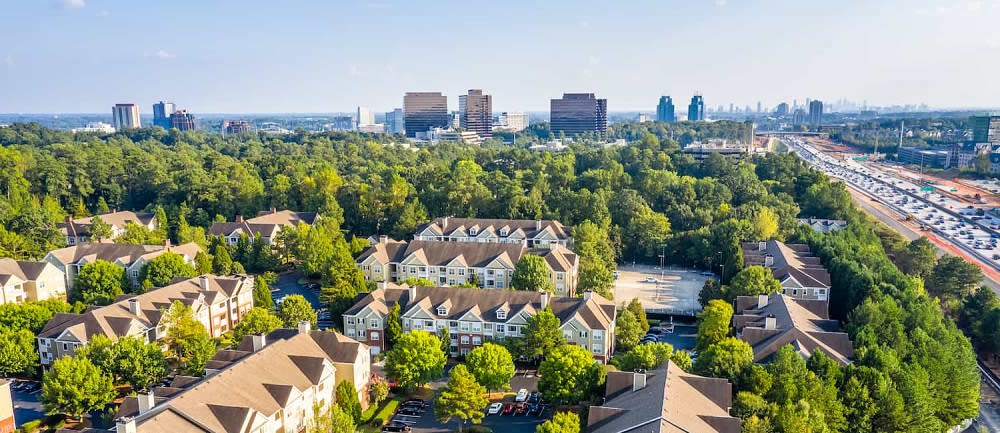 Photo courtesy of Shutterstock
Sandy Springs is one of the suburbs in the inner ring of Atlanta. It has ample greenery, fantastic educational opportunities, outstanding nightlife, and some of the best luxury homes in Georgia. In terms of business, Sandy Springs plays host to the corporate headquarters of several large companies, including Mercedes-Benz USA, UPS, and Cox communications, resulting in many fantastic job opportunities and a lively networking atmosphere that boosts the local economy. There are hundreds of shops and restaurants within the suburb for singles to explore, as well as more than 950 acres of parks and a performing arts center.
Peachtree Corners
Peachtree Corners is a planned community northeast of Atlanta. Sitting on the Chattahoochee River, this community is an innovative center of technology, playing host to several large high-tech companies, including Comcast, Amazon, Carmax, Siemens, and Prototype Prime, a business incubator promoting entrepreneurship. Central to the town lies a laboratory serving as a testing ground for autonomous vehicles and smart city technology. This Curiosity Lab hosts over a dozen startups thriving on innovation. The job opportunities in Peachtree Corners have lured many young people to this beautiful and innovative community known for integrating its smart tech into concerts, festivals, and sporting events.
Alpharetta
Alpharetta boasts the nickname "the technology city of the south," largely because it is home to nearly 900 technology companies. The city maintains an antebellum charm that is unique in part to Georgia itself. There are many attractions and opportunities in Alpharetta to meet new people, including year-round festivities, abundant shopping spots, miles of bike trails, and top-rated cuisine choices provided by hundreds of chef-elevated restaurants. Alpharetta is one of the most desirable housing choices in the country, having been included in both
Forbes
and
Money Magazine's
lists of places to live.
Roswell
Roswell is a metropolitan Atlanta town that manages to make you feel like you are living in a rural environment instead of one of the largest metropolitan cities in the United States. Many neighborhoods in Roswell have access to lakes, creeks, and the Chattahoochee River. You can meet people outside on the golf courses, community gardens, or nature trails or head inside for some unique local retail shopping. You will find plenty of opportunities to meet up with friends at the numerous outdoor concerts, art walks, and local artisan restaurants. Roswell is home to an eclectic range of houses and communities within one town, making it a great place to fit in, no matter your style.
Smyrna
Smyrna is a charming, comfortable, and highly attractive Atlanta suburb. It is one of Atlanta's more affluent suburbs, and the community has some truly outstanding job opportunities. Smyrna plays host to several large corporations, such as IBM, Glock Manufacturing, and United Distributors. The atmosphere is family-friendly and extremely welcoming, building a sense of community amidst high-end amenities. Take advantage of the gorgeous weather to check out the Village Green before you catch a round of golf with friends or check out the local breweries and restaurants.
Kennesaw
Kennesaw real estate may be your best bet if you're looking for a gorgeous, quaint town offering small-town life close to the heart of Atlanta. This town offers a
low
unemployment rate and a high appreciation rate for homes. Kennesaw takes pride in its historical railroad connections, and its Southern Museum of Civil War and Locomotive History is a Smithsonian-partnered attraction you cannot find anywhere else. Also, be sure to check out the gorgeous Smith-Gilbert Gardens.
If you are interested in homes for sale in any of these cities, contact the
Ivan Savant Team
for expert guidance. The team is ready to show you homes for sale in Smyrna, Kennesaw, or anywhere else in the greater Atlanta area.
Contact
an agent today to get started!
*Header photo courtesy of Shutterstock