Georgia is known for its ideal climate, flourishing economy, and centralized location. The state has attracted luxury home buyers for years with its spacious properties, low property tax rates, and mild weather. If you are looking for a list of the best places to buy a home in Georgia, here are the hottest communities you will want to consider in your search.
Atlanta
Of course, no discussion of Georgia's most incredible communities would be complete without beginning with Atlanta — the vibrant heartbeat of the state. This lively city has endless appeal and growth, with tons of amenities to its name, from shopping and dining to art galleries and entertainment venues.

Don't miss a day of retail therapy at Buckhead Village District, where you'll find luxury selections from Dior, Jimmy Choo, and more. Head to Ponce City Market to find a vast array of vendors, from Citizen Supply and Allbirds to Buck Mason, Glossier, and Warby Parker.
The dining scene is top-tier, with fantastic eateries like Marcel, Bones Restaurant, and Bacchanalia making a name for themselves. And, if it's delectable seafood you're after, look no further than The Oceanaire Seafood Room.

Atlanta is also home to renowned parks and recreation spaces. Visit the Georgia Aquarium to marvel at African penguins, tiger sharks, California sea lions, and adorable Beluga whales. Piedmont Park is a go-to spot for taking a jog, a gardening class, or a guided history tour. The park also hosts numerous events, from 5Ks to candlelit concerts. The Atlanta Botanical Garden is another popular attraction where you can witness nature at its most beautiful, from the vine arbor and desert house to the cascades garden and orchid conservatory.

Head to the High Museum of Art to feel inspired by impressive pieces of creativity. The museum also hosts fun events on Fridays, including yoga classes, jazz performances, and more.
Marietta
As a charmingly historic town just 20 miles from Atlanta, Marietta has so much to offer. With luxuriously appointed mansions, colonial-style estates, and pristine landscaping all around, the real estate scene here doesn't disappoint. With a rustic ambiance and gorgeous parks, Marietta offers a serene way of life in a community full of that classic Southern hospitality.

Famed dining destinations include Mac's Chophouse, with a memorable menu of English-cut prime short rib, filet mignon, and much more. Head to Marietta Square Market, where you'll find 19 restaurants, including Cafe Bourbon St., Cousins Maine Lobster, and Pita Mediterranean.

If you're still hungry, the Taste of Marietta is a popular community event where you can try all the most amazing foods Marietta chefs have to offer. Enjoy the live music, games, and over 70 delightful restaurants showcasing their menu standouts.
Smyrna
As another incredible place to buy a home in Georgia, Smyrna is an idyllic example of fast-growing suburbia, just 15 miles from the excitement of Atlanta. The nearby Battery is home to the Atlanta Braves and also hosts a theater, tons of stores, fantastic dining spots, and fun-filled events like disco parties, UFC matches, and more.

The 61-mile-long Silver Comet Trail begins in Smyrna and winds all the way toward Alabama; it's hugely popular for biking, hiking, and rollerblading. Downtown Smyrna also promises tons of fun at the Spring Jonquil Festival, with arts and crafts vendors, food booths, and entertainment. Here, you can find unique paintings, jewelry, clothes, and more.
Kennesaw

With beautiful parks, unique shops, and excellent dining spots to its name, Kennesaw is a sought-after city just 27 miles from Atlanta. The magnificent backdrop of Kennesaw Mountain sets a tone of natural splendor. The real estate scene is nothing short of luxurious, with gorgeous historic homes and unique architecture.

Swift-Cantrell Park is the perfect place to spend time with your fuzzy pals in the dog park, enjoy the skatepark and splash pad, or jog the asphalt trails. The Smith-Gilbert Gardens is another popular outdoor oasis, complete with rare plants, a waterfall, outdoor sculptures, and fluttering butterflies.

For even more fun, head to the Pigs & Peaches BBQ Festival in August. With great food, amazing music, and a fireworks display, this is one event you don't want to miss!
Athens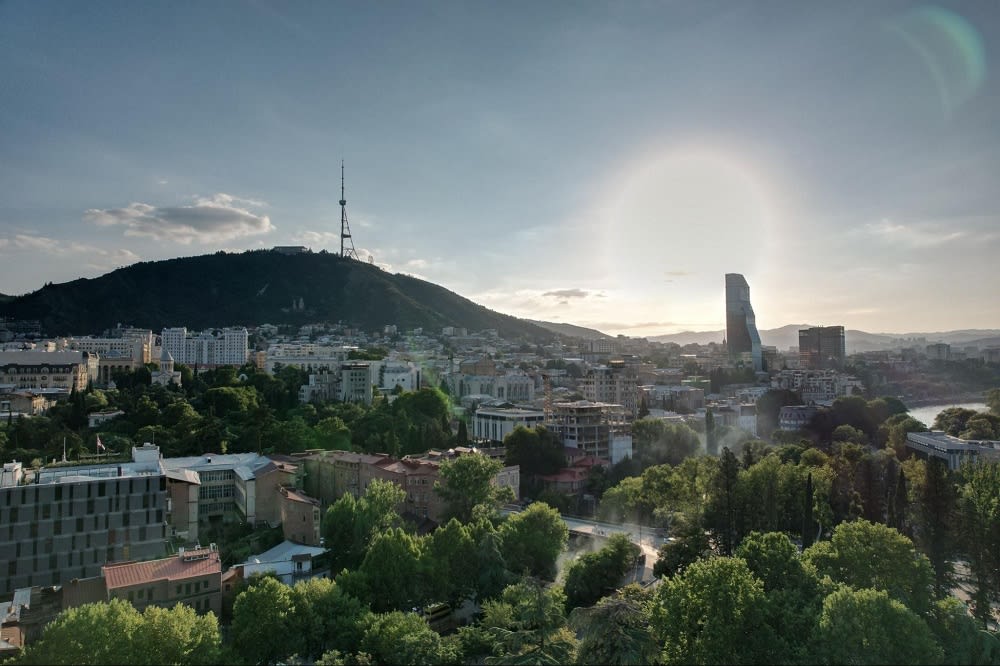 Photo courtesy of Unsplash

Athens is a college town approximately 70 miles from Atlanta, known for its quaint, upscale suburban neighborhoods and vibrant expression of culture, history, and art. Home to the University of Georgia Bulldogs, the vibe in Athens is full of youthful energy combined with old money.

Known as "the Classic City," Athens was named after the original city in Greece that was a center of culture and learning in the classical world. Athens maintains this tradition today with its connection to art and history and is home to the Morton Theatre. Built in 1910, it's the oldest vaudeville theater in the country still standing. Here, famous performers, such as Louis Armstrong and Duke Ellington, made their mark. Located in the "Hot Corner," this area of Athens is known for fun and food. A popular annual event here is the Hot Corner Festival, which hosts the best of local businesses, restaurants, and entertainment in an annual block party.

With a population of nearly 130,000, Athens has been growing rapidly in recent years. Many types of properties are available in Athens. Here you can find condos, townhomes, historic Victorian-era homes, and multi-story luxury homes and estates for sale. The neighborhoods within Athens tend to be much quieter and more relaxed compared to nearby Atlanta. Athens is consistently rated as one of the top cities to live in Georgia. It is also the birthplace of several celebrities, such as Jeff Daniels and Kim Basinger.
Alpharetta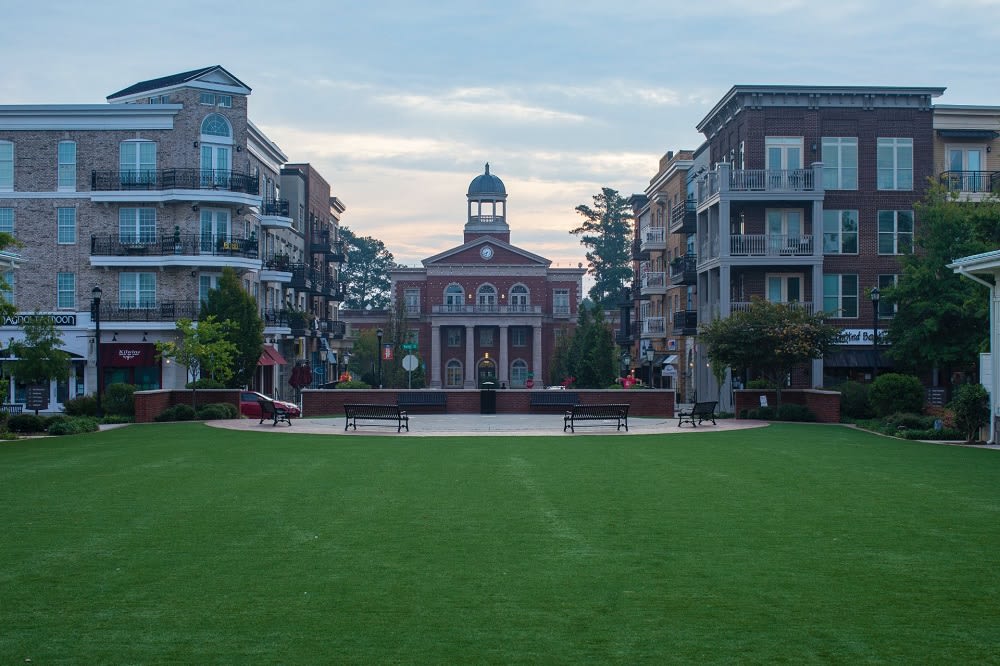 Photo courtesy of Unsplash

Alpharetta is a prestigious community filled with business professionals, retirees, and families. The community is known for its top-rated schools, upscale neighborhoods, and robust job market. The city has a reputation as one of the more affluent suburban areas of Atlanta. You will find a variety of homes, including Victorian and Tudor estates.

Alpharetta has all the amenities you would expect from a big city, such as fine dining restaurants, shopping, and entertainment galore. Shoppers will enjoy the North Point Mall, with many high-end department stores to explore. Cabernet Steakhouse is the perfect place to enjoy surf and turf classics, such as Chilean sea bass and petite filet mignon. You also won't want to miss Pappadeaux, which features classic southern dishes like the giant shrimp, grits, and blackened catfish.
Woodstock
Thirty miles to the north of Atlanta, you can find the quiet community of
Woodstock
, known for its wide-open scenic parks and nature trails. This small community is within easy commuting distance of Atlanta and is also one of the fastest-growing suburbs in the country.

Despite its small size, there is a lot to do in the city of Woodstock. Visitors will enjoy the Elm Street Cultural Arts Village, which hosts fun-filled plays and concerts almost every day. The village also boasts extensive gardens, an art gallery, and educational activities for the whole family. Residents also enjoy spending time in the great outdoors at Old Rope Mill Park along Little River.

The neighborhoods in Woodstock are quiet suburban niches with a small-town vibe. Woodstock is home to several renowned golf courses, including the Eagle Watch Golf Club, designed by Arnold Palmer. Its convenient location, gorgeously scenic parks, and small-town charm make Woodstock one of the best places to buy a home in Georgia.
Decatur
Decatur is located just six miles from the center of downtown Atlanta. With a mixture of urban and suburban living, Decatur has several restaurants, swanky bars, coffee shops, and large city parks in store. With its convenient location close to downtown, Decatur is great for those needing to commute or use public transportation. Decatur offers its residents and visitors excellent options for entertainment and dining as well. Foodies will love the Spanish tapas at local hotspot The Iberian Pig. The Kimball House features the best raw oysters in the city paired with fancy cocktails, all in an old train station setting.

Home to over 24,000 residents, Decatur has many historic homes on its real estate scene. Many homes were designed by famous architects living in Georgia since the early 19th century. You can find a variety of architectural designs, including Queen-Anne cottages, Italian revival villas, and bungalows. Residents love living in Decatur due to its central location, beautiful real estate, and charming community.
Peachtree City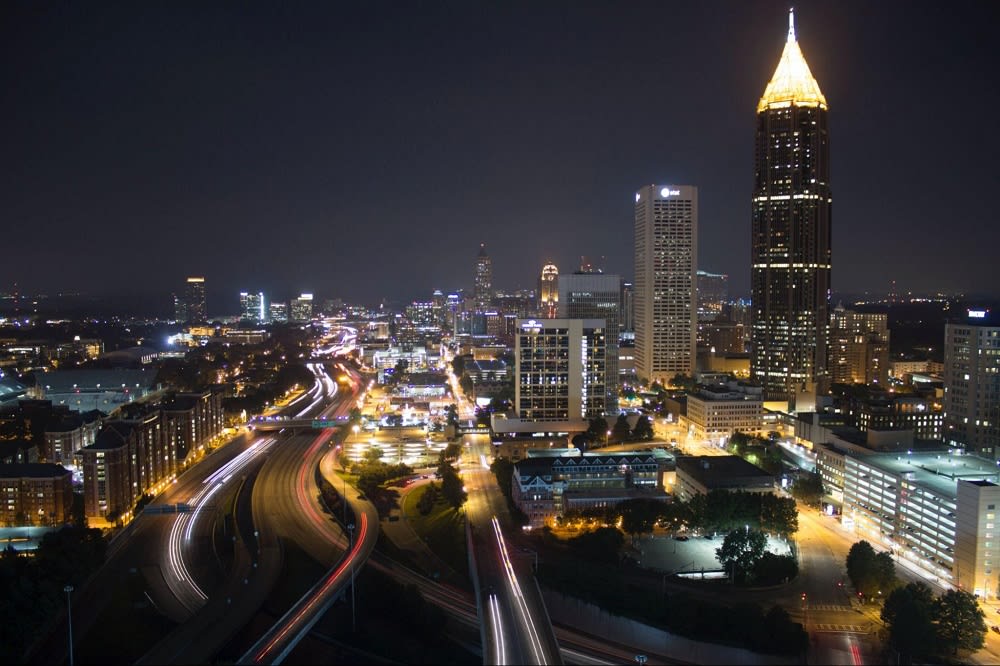 Photo courtesy of Unsplash

Peachtree City is one of the top suburbs of Atlanta, known for being a planned community and maintaining its privacy. This unique community is connected by over 100 miles of multi-use pathways that intersect every part of the city. Many residents choose to drive golf carts for transportation, giving Peachtree its nickname "golf cart city." As you can imagine, there are also several top-rated golf courses and country clubs in the area.

The population of 35,000 residents consists of business professionals, families, and retirees. Peachtree City has a reputation as a charming, quiet community, despite being less than an hour away from downtown Atlanta.
Finding the right agent
With so many amazing options available, searching for a home in Georgia can be as daunting as it is exciting. Thus, you will need the guidance of an experienced agent who understands your local market and can help you find the perfect community. If you are looking for the best place to buy a
home in Georgia
or have questions about Georgia real estate, team up with the experts at the
Ivan Savant Team
.