Marietta, Georgia, is known for its lively culture of arts and entertainment, as well as a rich history that is often rumored to come
back to life
after dark. Situated only 20 miles from Atlanta, Marietta has a charming antebellum flair with an advanced technological edge. The town is home to several theaters and features various beautiful sunny parks with shaded paths, rife with guided tours to highlight the history hidden behind every stone used to build this attractive southern town.
When looking for things to do in Marietta, you must consider shopping. The shopping in Marietta, GA, is as varied and unique as the town itself, and you simply cannot pass up a chance to peruse these offerings!
Marietta Square
Marietta Square is the central heart of the town of Marietta. The square circles around Glover Park, creating the quintessential small town gathering square complete with cobbled paths, a multitude of benches for gathering and people-watching, and expansive open green spaces serving as a perfect setting for festivals, concerts, special events, and a diverse selection of unique shopping experiences. With a mixture of small-town local artisans, antique dealers, and high-end boutiques, the shopping scene around Marietta Square is quite eclectic.
Marietta Square stores feature a range of options that span many hobbies and interests, from carefully curated art selections at DK Gallery to the personalized pet nutritionists at Bark Street Petopia. Along the way, you will find an array of antiques, gifts, candies, clothing, collectibles, salons, jewelry, and over 30 unique restaurants ranging from traditional southern flavors to various international tastes. If you are searching for something sweet, several bakeries are serving up desserts to pair with your locally sourced coffees in the beautiful outdoor seating that makes Marietta Square such a lovely shopping experience.
Marietta Square Market
Located within the historic square is the Marietta Square Market. The market is housed in a converted warehouse space and is now an 18,500-square-foot food hall housing over
18 restaurants
and two retail shops. The market is built near the downtown Marietta train tracks and showcases a train station theme, even housing a 1922 trolley car. Since the market is so close to the tracks, vibrations can be felt through the floor and walls whenever a train passes.
The market itself is stacked with a varied selection of international culinary treats. If you get hungry while shopping, this is an excellent place for a mixture of choices, including Vietnamese teas and coffees, barbecue, tacos and tequila, Cajun po'boys, ice cream, pizza, poke bowls, or even lobster. Marietta Square Market is a perfect place to fuel your day of shopping around town.
Marietta Square Farmers' Market and Artisan Market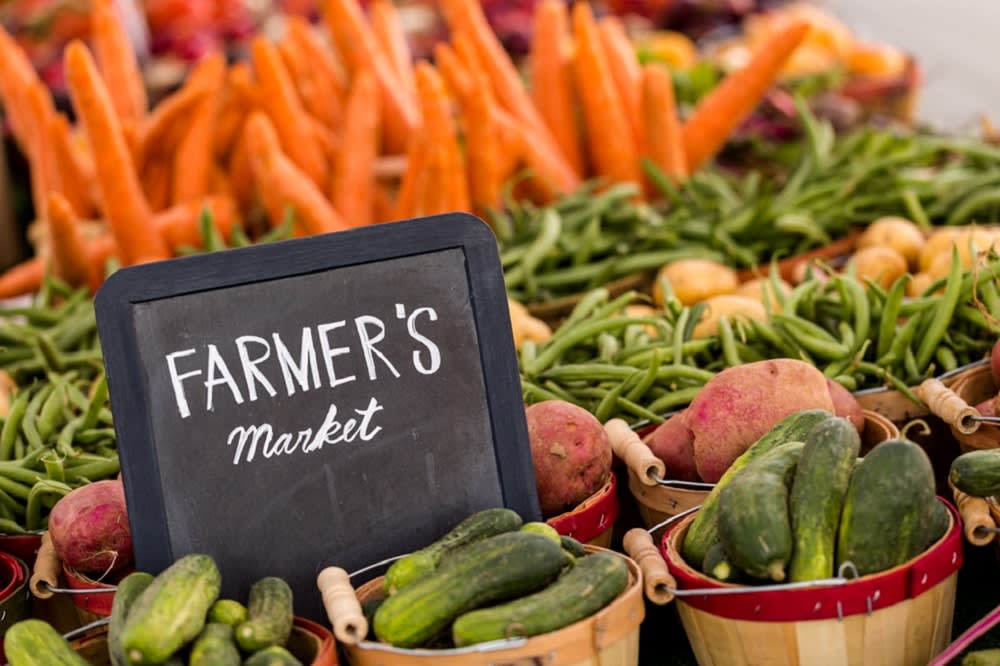 Photo courtesy of Shutterstock
Every Saturday on the square, the Farmers' Market is open rain or shine. A wide variety of locally produced handcrafted goods is available in Marietta, as well as organic fresh fruits and vegetables. Where else would you find heirloom tomatoes, potatoes, squash, fruits, local honey, salsa, fresh baked whole-grain bread, fruit pies, jams, and preserves all in the same location? You can also buy fresh herbs that are cut and potted alongside a variety of other garden plants and fresh flowers. Considering the number of fresh pasta and baked goods, make sure you show up with an empty stomach and a large bag to carry home all of your new finds.
The Artisan Market is also open Saturdays from March through December, displaying a selection of mixed-media artwork crafted by gifted local artisans. Featuring paintings, drawings, photography, woodworking, ceramics, handcrafted jewelry, pottery, and much more, the Artisan Market is a fantastic place to find unique and locally-sourced artwork from Marietta's talented and imaginative community.
The Brumby Chair Company
The historic Brumby Chair Company, famous for its handcrafted wooden rocking chairs, is located on the eastern side of Marietta Square. Brumby chairs have been a southern staple since 1875 and have grown in popularity across the United States in the generations since. You can find these magnificent rockers in many luxury homes and resort destinations across the country, including Yellowstone National Park, The White House, and Georgia's governor's mansion. Stop by to choose your new chair in The Rocker Shop, where the furniture is still being handmade, or place a custom order. You can also take a tour for a hands-on experience to see exactly how your rocker will be crafted.
Nobles Metales Jewelry Design Studio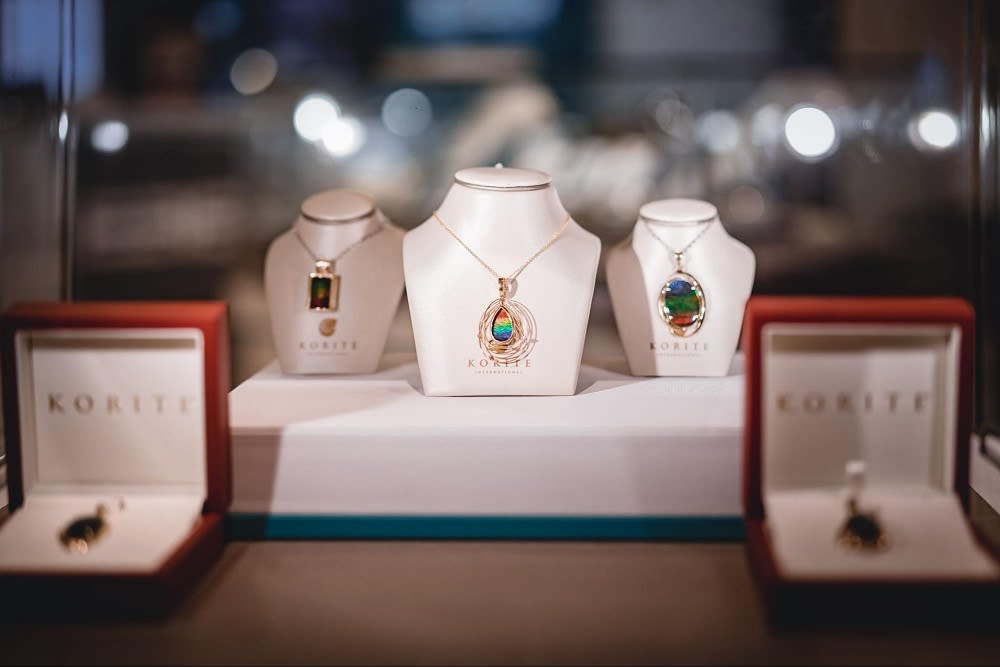 Photo courtesy of Unsplash
Nobles Metales is a custom jewelry design studio run by Andreas Cardenas. This jeweler and designer, originally from Bogotá, Colombia, specializes in making high-end artistic jewelry with as small an environmental footprint as possible. Using recycled and reclaimed metals, as well as re-purposing clients' vintage and heirloom pieces, Cardenas creates new, exclusive jewelry pieces that cannot be found anywhere else. Stop by his studio on Marietta Square to view his current items for sale or to schedule your own customization consultation to craft your own one-of-a-kind piece of jewelry.
Market with a B.
Market with a B. is a stylish, southern boutique bursting with the charm and class one expects to find in an area as chic as downtown Marietta. Featuring a rotating collection of apparel, home goods, gifts, jewelry, and accessories, the items featured at Market with a B. blend rustic sensibilities with contemporary southern wit and seasonal trends. This locally owned market is an essential stop on your shopping tour of Marietta.
Marietta, Georgia, is one of those places you will never want to leave once you discover how lovely it truly is to be here in our community. The good news is that there are many Marietta homes for sale. The
homes for sale
in Marietta are just as varied and beautiful as the town itself. These homes have the same antebellum charm as Marietta Square or the world-famous Brumby rocking chairs. Why not find a home perfectly suited for you in Marietta?
Once you have decided to move, you need a real estate agent who is familiar with all that Marietta has to offer. The real estate agents at the
Ivan Savant Team
are waiting to guide you to your perfect Marietta home.
Contact
them today.
*Header photo courtesy of Shutterstock